Enabling Cytology Labs to Do More
Genesis is a slide preparation processor for gyn cytology and non-gyn cytology applications, as well as automated aliquoting for molecular testing. The multiple applications can come from the same ThinPrep® PreservCyt Collection Vial. It offers automated chain of custody, streamlined cytology processing, and hands-free sample aliquoting in a single instrument. This system promotes confidence in results while optimising lab performance.1
Reduces the Chance of Errors
Peace of mind: Barcode verification ensures chain-of-custody.
Reduce human error: Automated aliquoting standardises pipetting.
Reduce sample repeats: Automated decapping prevents spills or lost samples.
Reduce risk: Closed vial dispersion reduces risk of cross-contamination.
Ergonomic & Intuitive Design
Reduce repetitive and manual tasks: Automated barcode printing eliminates need to manually label or write on tubes and slides.
Reduce personal injury: Automated decapping, capping and aliquoting helps limit repetitive strain injuries.
Improve Your Workflow
Increase workflow efficiency: Automated aliquoting replaces a manual process and minimises additional sample handling and barcode printing eliminates the manual slide label writing step.
Increase workflow flexibility: Convenient and intuitive barcode setup and label design capabilities at your fingertips.
Increase laboratory productivity: Compact footprint saves space in your lab.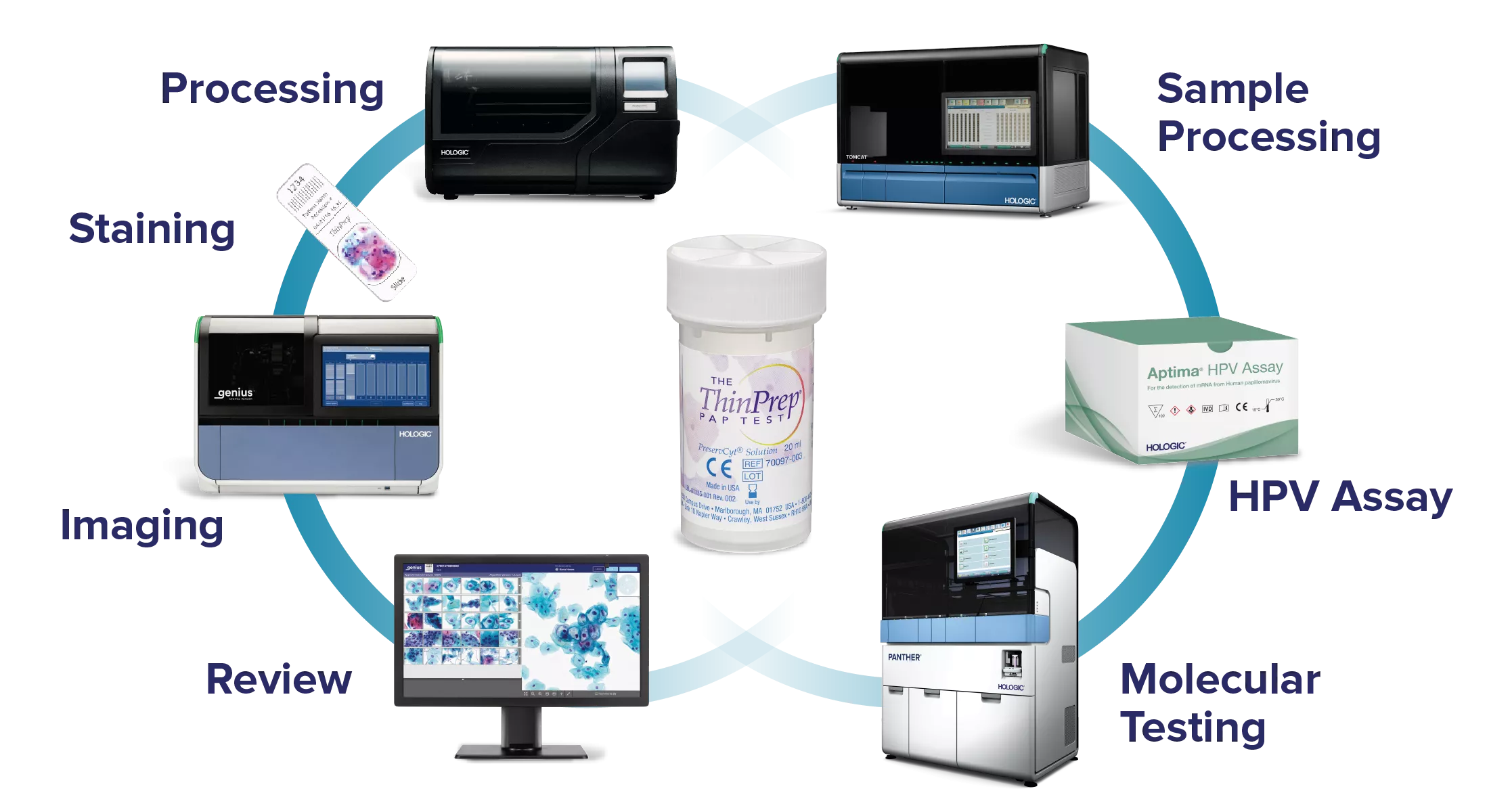 Working With You to Advance Cervical Health
We pride ourselves on being champions of women's health and global leaders in screening, dedicated to advancing the accuracy and early detection of cervical cancer. From HPV to cytology, and now also AI-based digital diagnostics, we offer a comprehensive and unique screening portfolio, from sample collection to diagnosis.
Key Features
Automated uncapping and recapping of ThinPrep vials and Aptima® tubes
Automated pipetting and intuitive touchscreen
Barcode scanning with verification software to maintain chain of custody
Versatile design, making it easy to operate a single unit or suite of instruments
Scalable solution for any laboratory size
Optional slide and tube printers available
Meeting the Demands of Your Lab
ThinPrep processors are intuitive, versatile, and scalable solutions for laboratories of all sizes. Our range offers reliable, best-in-class systems that help cytology labs automate their processes. The integrated chain-of-custody technology delivers confidence in results without sacrificing productivity.
The ThinPrep Genesis Processor delivers an entry level lab automation. Explore our complete range of processors below.
Evidence. Insight. Collaboration.
Our education portal improves patient care through excellence in education, communication of clinical and scientific evidence, and partnerships with the healthcare community.
ThinPrep Genesis Processor Operator's Manual MAN-08098-002 Rev 002
ThinPrep 5000 Processor Autoloader. AW-22290-002 Rev. 003
ThinPrep 5000 Processor. MAN-07493-002 Rev 003
Hologic BV, Da Vincilaan 5, 1930 Zaventem, Belgium.
Notified Body number wherever applicable