Lab Efficiency with Minimal Hands-on Time
The ThinPrep 5000 Autoloader maximises laboratory efficiency while offering even more walkaway freedom, with up to 8 hours of hands-free processing of ThinPrep® Pap test, ThinPrep® PreservCyt® Solution (non-gyn) and ThinPrep® UroCyte® samples.1 This system, with continuous access along with chain-of-custody verification, laser etching and automatic vial uncapping, brings a new dimension of productivity to your cytology workflow.1
More Walkaway Freedom1
Up to 8 hours of walkaway, hands-free processing.
Load up to 300 filters and slides, as well as up to 160 samples.
Refill consumables and vials at any point during system operation.
Adaptable run sizes and trays of various sample types can be loaded.
Processed slides are racked and ready for staining; output racks can be loaded directly into select stainers and coverslippers.*
Chain-of-Custody Verification for Each Sample
Integrated laser slide etching after vial barcode is read.
Barcode or 7/7 OCR (Optical Character Recognition) etching eliminates the need to manually apply slide labels.
Simple and intuitive slide label design, allowing a variety of data/layouts to be printed.
Additional information from LIS (Laboratory Information System), i.e. patient name, date of birth, etc., can also be etched onto the slide.
Ergonomic & Intuitive Design for a Smoother Operation
Automated vial uncapping and re-capping.
Eliminates risk of repetitive strain injuries for operators.
Load samples and filters by trays to reduce touchpoints.
User-friendly touch screen interface for real-time progress tracking and reporting.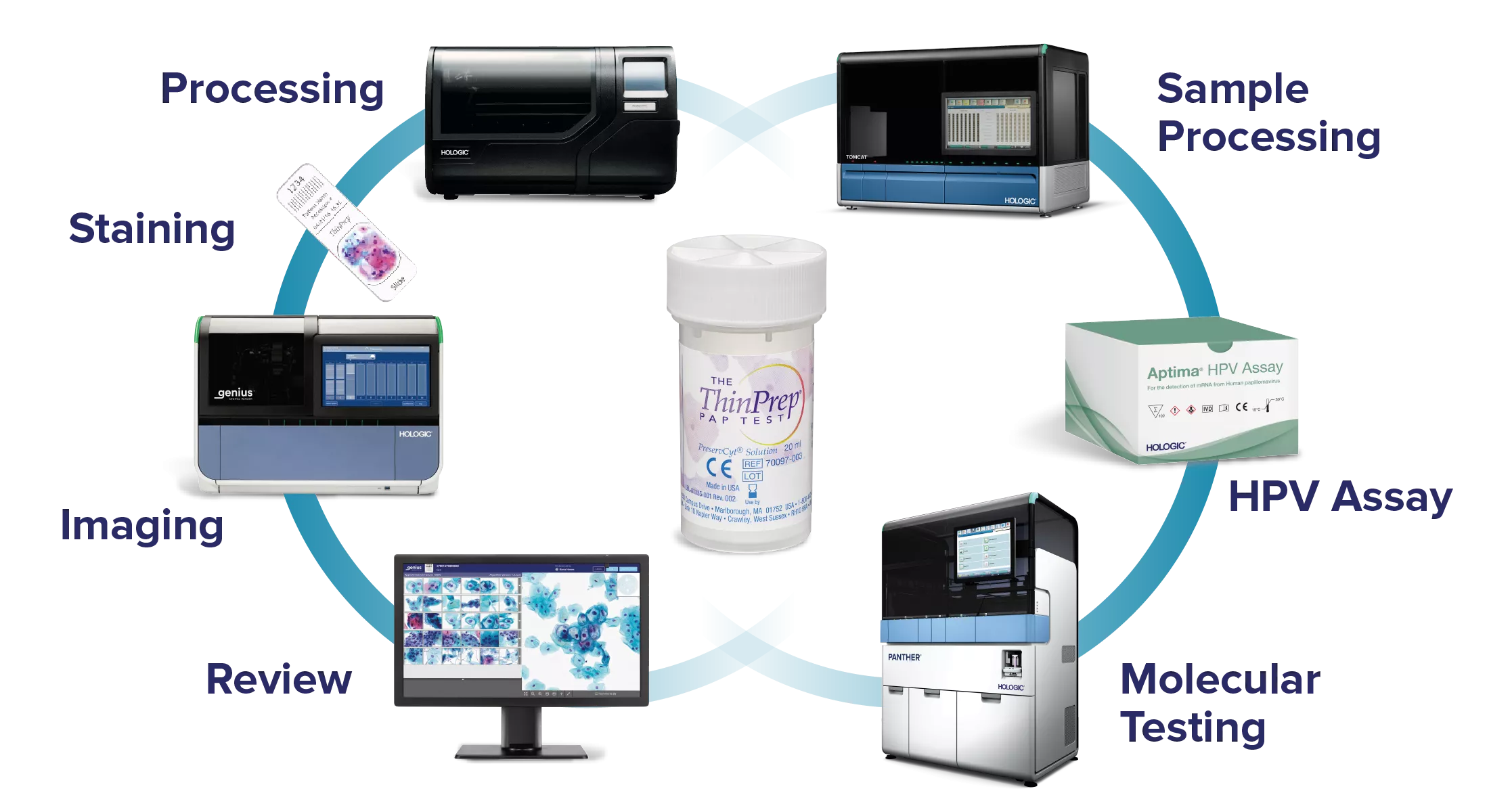 Working With You to Advance Cervical Health
We pride ourselves on being champions of women's health and global leaders in screening, dedicated to advancing the accuracy and early detection of cervical cancer. From HPV to cytology, and now also AI-based digital diagnostics, we offer a comprehensive and unique screening portfolio, from sample collection to diagnosis.
A New Dimension of Productivity
Capacity of samples: up to 160
Capacity of consumables: up to 300 slides and filters
Consumable Loading: continuous
Slide removal: continuous
Chain of custody: slide etching
Walkaway time: 8 hours
Dimensions: 137cm wide, 145 cm high, 71cm deep
Clearance: 160cm wide, 190cm high, 122cm deep1
Meeting the Demands of Your Lab
ThinPrep processors are intuitive, versatile, and scalable solutions for laboratories of all sizes. Our range offers reliable, best-in-class systems that help cytology labs automate their processes. The integrated chain-of-custody technology delivers confidence in results without sacrificing productivity.
The ThinPrep 5000 Processor Autoloader offers our highest level of lab automation. Explore our complete range of ThinPrep processors below.
Evidence. Insight. Collaboration.
Our education portal improves patient care through excellence in education, communication of clinical and scientific evidence, and partnerships with the healthcare community.
*Adapters may be required for some models
1. ThinPrep 5000 Processor Autoloader. AW-22290-002 Rev. 003
2. ThinPrep 5000 Processor. MAN-07493-002 Rev 003
3. ThinPrep Genesis Processor Operator's Manual MAN-08098-002 Rev 002
Hologic BV, Da Vincilaan 5, 1930 Zaventem, Belgium.
Notified Body number wherever applicable